The day-to-day stresses of life can be overwhelming and at times may make it hard to focus on keeping up the intimacy in our relationships. Often, a loss of attraction isn't to blame for extinguishing the flames that once burned in the bedroom, but rather a diminishing libido. Therapeutic use of essential oils has been a recognized practice for thousands of years, dating as far back as 2800 BC. In addition to traditional methods of using essential oils for relaxation, stress management and the alleviation of symptoms associated with menopause, they can also be used as a catalyst to stimulate arousal and boost libido naturally.
Boost Libido Naturally With Aromatherapy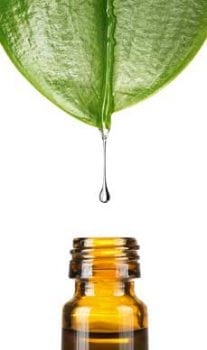 Libido can often be negatively affected by internal and external factors such as stress, fatigue, depression, anxiety or a combination of the above. Aromatherapy is a method of using essential oils to tap into our sensory systems and provoke emotional responses. There are several ways to use essential oils for aromatherapy. Though using traditional diffuser bottles and burning trays may be common in many households, heating things up in the bedroom using aromatherapy may take a little creativity. Among the array of highly recommended essentials oils said to possess the ability to increase sexual desire and boost libido naturally are:
• Ylang Ylang
• Clary sage
• Jasmine
• Sandalwood
• Vetiver
• Vanilla
• Lavender
• Eucalyptus
• Mint
Romantic Dining
In addition to commonly overused edible aphrodisiacs like chocolate and oysters, try spicing up your love life with a romantic meal, incorporating some edible essential oils you probably already have in your spice cabinet or pantry into your favorite date night recipes. A romantic dinner will provide the perfect atmosphere for connecting with your partner. And in the name of spicing up the bedroom, there are also a few herbs and spices that contain essential oils, which are also great ways to boost libido naturally:
• Cinnamon
• Black pepper
• Nutmeg
• Ginger
• Saffron
• Garlic
• Maca
Sensual Massage
Topical application of essential oils through sensual massage can be used to stimulate arousal and boost libido naturally. Powerful aromatic properties of the oils working in combination with your partner's sensuous caresses will not only help to relax your body, but heighten your senses for added indulgence. Using essential oils for sensual massage is dually beneficial. Not only are your partner's caresses allowing the oils to enter the bloodstream through dermal application, the oils are also being absorbed into the bloodstream by way of inhalation. Many of the essential oils recommended for topical application call for specific measurements and blends in order for them to have libido-boosting effects, so it's important to read packaging and usage directions well before application.
Intimate Bathing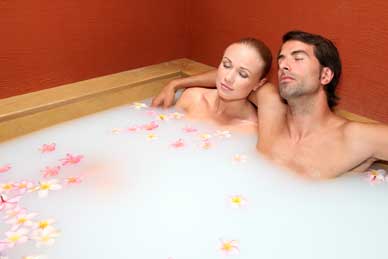 Putting the spice back into the "bedroom" doesn't mean limiting yourself to the bedroom. Sometimes a change of scenery provides a bit of added excitement. Applying a few drops of lavender and eucalyptus to a warm bath is said to having calming effects. A relaxing soak using these essential oils will help rid you and your partner of anxieties and inhibitions, which are also known libido killers.
The benefits of essential oils extend far beyond their traditional therapeutic uses for stress relief and relaxation. A number of studies show that many essential oils also help to increase diminishing libido in both men and women. Rekindle those bedroom flames using natural essential oils in whichever form that pleases you and your partner to give your libido the kick start it needs.
Related Articles:
Natural and Effective Ways to Soothe Stress
Essential Oils for Low Libido
Crank up the Heat in the Kitchen and Bedroom