Some foods offer the best of all worlds: delicious flavor, benefits to the health and a little something extra—a libido boost. Almond butter, maca root, raw cacao and extra-virgin coconut oil provide a host of healthy nutrients and are also libido boosting foods, making them great ingredients for cooking in the kitchen and in the bedroom. Learn how these all-natural ingredients can benefit your health, and then discover an easy libido-boosting recipe that features all four!
Almond Butter: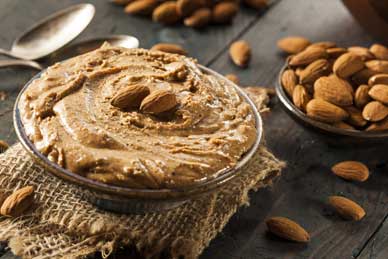 Almonds are rich in vitamin E, selenium and zinc, nutrients that are important to sexual health and reproduction. They also contain omega-3 fatty acids, which help in the production of testosterone. In addition, anecdotal evidence suggests that the smell of almonds boosts sexual desire in women. Additional health benefits are that almonds are naturally low in sugar, plus are a good source of protein and fiber as well as calcium, magnesium and potassium. Adding almonds to the diet helps maintain a healthy body weight and enhances heart health and gastrointestinal health.
Maca:
Due to its benefits for sexual health, maca has been nicknamed "Peruvian ginseng" or "natural Viagra®" and is the king of libido-boosting foods. In men, this root vegetable is purported to help boost sperm production and curb erectile dysfunction, and many women who consume maca report increased sexual desire. Additional health benefits: Maca is loaded with vitamins, minerals and amino acids, which help to increase energy and balance hormones. It is also an adaptogen, which is a nutrient that helps the body adapt to physical, emotional and environmental stress.
Raw Cacao:
The ancient Maya believed that cacao (raw chocolate) was a gift from the gods worthy of annual festivals and celebration. Eating cacao boosts endorphins and dopamine levels in the brain, which are associated with happy feelings, including sexual desire, making raw cacao perhaps one of the most delicious libido-boosting foods. Cacao is also rich in antioxidants that benefit fertility in men and women. Additional health benefits: Cacao contains more antioxidants than green tea or red wine. A rich source of potent phenols, it is good for the cardiovascular system, and cacao helps keep cholesterol levels in check. Small amounts of natural caffeine may also provide a subtle energy boost.
Extra-Virgin Coconut Oil:
Many natural-health experts recommend coconut oil for women in menopause. Applied to the private parts after a shower, it helps lubricate vaginal fluids and provides antifungal properties. Beware of using it with condoms however, as coconut oil can damage latex. Anecdotal evidence suggests that intake of coconut oil boosts libido in humans, and scientific results have shown that consumption increases testosterone levels in animals. Additional health benefits: About half of the saturated fat content in coconut oil comes from medium-chain triglycerides (MCTs), which provide fuel that is quickly burned rather than stored as body fat. MCTs may help boost metabolism and increase energy levels, which makes coconut oil an excellent ingredient for people who are watching their weight. For the most health benefits, purchase coconut oil in the unrefined or extra-virgin form, and use it to create this delectable, libido-boosting dessert.
Anorous Almond Butter Cups:
8 to 12 portions
Schokolade:
1 cup raw cacao powder, 1/2 cup coconut oil, melted 1/2 cup coconut nectar, 1/8 tsp. sea salt
Almond Butter Filling:
2/3 cup almond butter
1 tbsp. maca powder
2 tbsp. honey
Scoop coconut oil into a glass measuring cup, and set the cup in hot water to melt the oil. Pour the oil into a bowl and mix with the other chocolate ingredients, whisking until smooth. Place 8-12 foil liners into a cupcake tin, fill them about 1/3 full with the chocolate mixture and freeze for 5-10 minutes to set. In a small bowl, combine the filling ingredients and mix well. Remove the chocolate from the freezer, and place 1 tsp. of the filling atop each chocolate layer, taking care to keep it in the center. Spoon chocolate over each mound of filling for complete coverage, and return the almond butter cups to the freezer for at least 20 minutes to set. Enjoy for a quick, energy-boosting snack or a sensual dessert! This sweet treat features four ingredients that combine to form a powerhouse of libido-boosting properties. These delectable bites also provide a host of other health benefits, making them a favorite, go-to dessert. Prepare this recipe for date night to crank up the heat in the kitchen and the bedroom!
By guest contributor Jillian Fritsen