Low libido, or lack of sexual desire, is an affliction that affects nearly 50 percent of men and over half of all women over age 55.  Low libido can affect younger people, too, and is usually caused by a number of factors—either psychological, physical, lifestyle-related, or a combination of the three. Stress, anxiety and depression are three of the most common causes of low libido. Although low libido is more common in women, studies have shown that men are hit harder psychologically by low libido; as a result it tends to affect men more severely.
Essential oils have been used for centuries for their multitude of healing properties including stress relief, boosting energy and mental focus and relaxation, so it should come as no surprise that essential oils can also help boost libido! In fact, because libido is strongly influenced by scent, an aromatherapeutic approach is an absolutely perfect way to boost libido.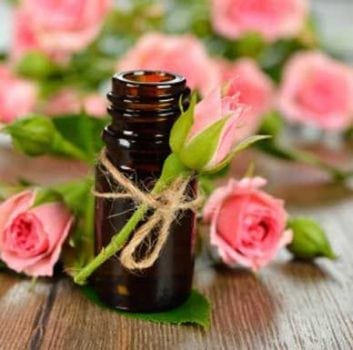 Essential oils work by acting as aphrodisiacs, stimulating and invigorating the body, mind and senses and also by helping to soothe the stress and anxiety that often accompany low libido. Essential oils can also help support a healthy mood with their uplifting properties. All of these factors are important to a healthy sexual response and work together to boost the libido.
Essential oils can be diluted by carrier oils like coconut or olive oil and dabbed on the pulse points (on your wrists or behind your ears), added to your bath (add 10 drops to 1 cup of Epsom salts, or add a few drops directly to your bath water), or diffused in the air to create an atmosphere of sensuality and enlightenment.
Choose your favorites from this list of healing, libido-boosting essential oils, and use them separately or combine them in any way that fits your fancy!
Anise
Especially effective for women, anise is a spicy scent that boosts sensuality and lustful feelings.
Basil
This herbal aroma helps ignite arousal in both men and women.
Cedarwood
Cedarwood soothes anxiety, helping to pave the way for comfortable sexual relations.
Cinnamon
Uplifting and stimulating, cinnamon helps maintain healthy circulation, setting the stage for healthy desire and renewed passion.
Clary Sage
Clary sage helps boost libido and desire while also promoting relaxation, helping lovers to set aside their inhibitions.
Geranium
Geranium promotes feelings of love and euphoria, promoting a happy, calm mood.
Ginger
This oil possesses potent warming properties, a great general remedy for increasing libido and sexual desire.
Jasmine
The oil of deep relaxation, jasmine helps promote a sensual mood and instills a deep feeling of serenity.
Juniper
A pungent woodsy scent that spikes arousal and feelings of sexuality.
Lavender
Lavender may help support healthy hormonal balance, while also soothing stress and anxiety.
Nutmeg
This spicy, warming oil helps put you in the mood while stimulating positive thoughts and emotions.
Orange Blossom
Orange blossom piques sexual curiosity and engagement, helping to keep things interesting in the bedroom.
Patchouli
This woody oil has aphrodisiac properties that help initiate sexual desire while facilitating communication, breaking down both physical and emotional barriers.
Sandalwood
Another woody scent with aphrodisiac properties, sandalwood is especially useful to boost libido in men. This aroma works on the root chakra to promote grounding and open up sexuality. It also helps maintain healthy circulation, always a plus in the bedroom!    
Vanilla
A great oil for enhancing feelings of arousal and sexual thoughts, vanilla can be as yummy in the bedroom as it is in the kitchen.
Ylang ylang
This elevating scent helps ignite sexuality and desire while enhancing emotional connection in a relationship. Soft and sweet, ylang ylang helps soothe frazzled nerves to ramp up the romance factor!
Considerations When Using Essential Oils to Boost Libido
If you are pregnant, nursing, or have a medical condition, be sure to check with a health practitioner before using essential oils to boost libido. Discontinue use immediately and consult your health practitioner if you ever experience irritation or an allergic reaction to an essential oil.
Related Articles:
Crank Up the Heat in the Kitchen and Bedroom
Seven Common Things That Can Dampen Your Sex Drive
Low Libido: The New Epidemic