Whether you're sharing your first date or the 20th anniversary of a first date, a romantic date night movie at home offers a cozy and affordable option. While some twosomes may enjoy a larger-than-life epic, others may lean toward an amusing comedy. Fortunately, numerous romantic films in a variety of genres line the video store shelves or are available online. Here are seven date night movies that are sure to ignite a loving flame (and maybe even your libido!).
The Top Seven Romantic Date Night Movies
Classic: An Affair to Remember
An ocean voyage sets the stage for this heart-rending classic, with high-profile passengers Nicky Ferrante and Terry McKay falling passionately in love over the course of the trip. Unfortunately, both are betrothed to other people. As a test of their love, the two make an agreement to meet at the top of the Empire State Building if still in love after six months' time. Viewers who appreciate a poignant story will thoroughly enjoy this most timeless of date night movies.
Comedy: Notting Hill
When movie star Anna Scott enters William Thacker's struggling travel bookstore to make a purchase, neither can imagine a possible future encounter. Yet just minutes later, on the street, Thacker accidentally spills his orange juice down Anna's shirtfront. This is just the beginning of many slightly awkward moments between the pair. Set in the charming London neighborhood of Notting Hill, this romantic comedy is a perfect date night movie that delivers eclectic characters and a good chuckle.
Coming-of-Age: Easy A
One little white lie about losing her virginity has caused quite an uproar for bookish Olive Penderghast, but everyone knows that in high school, rumors spread like wildfire. Making the best of a bad situation, Olive takes advantage of the gossip grapevine to boost her socials status and line her wallet. This clever play on the classic story The Scarlet Letter is an amusing movie choice for couples of all ages.
Drama: Titanic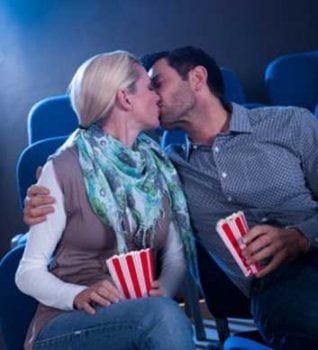 Struggling street artist Jack Dawson can't believe his luck when he wins passage on the RMS Titanic in a waterfront card game, and fate takes a further turn when he encounters Rose DeWitt Bukater on the aft deck of the ship. The daughter of a penniless aristocrat, Rose contemplates suicide to avoid marriage to Cal Hockley, a wealthy man she doesn't love. Saving Rose from jumping ship, Jack ultimately wins her heart, but a vengeful Cal frames him for a crime he didn't commit. After Jack is incarcerated on board, the vessel hits an iceberg, and a distraught Rose must find her beloved before the ship sinks into icy waters. Titanic is a classic date night movie that delivers an abundance of action, drama and romance for an ideal date movie.
Historical: Gone with the Wind
This sweeping saga follows spoiled Southern belle Scarlett O'Hara through her teenage years on a large plantation to adult life in war-ravaged Atlanta. Through two marriages, Scarlett is involved in a stormy love affair with disreputable blockade-runner, Rhett Butler, whom she also eventually marries. Surviving war, poverty, starvation and loss, this debutante-turned-businesswoman makes a beautiful and resilient protagonist in a classic Civil War story. History buffs will appreciate this moving date night flick.
Holiday: Love Actually
Eight loosely-connected couples encounter various highs and lows when it comes to love in this charming holiday tale. Set in London, England, this film features pairs in differing social classes, love triangles, and twosomes who can't communicate to name just a few of the romantic stories. Each unique character contributes to the whole for a captivating Christmas classic well worth watching.
Independent: Seeking a Friend for the End of the World
Every aspect of Dodge's life is predictable, but breaking news of an impending asteroid compels his wife to flee, leaving Dodge in shock and alone. When Penny, a spirited neighbor, delivers a very tardy letter from a long-lost sweetheart, Dodge realizes he must quickly find his first love, and an intriguing road trip ensues. People wanting a romantic film full of gaiety and good feelings may want to look elsewhere, but this unusual movie can certainly draw two people closer together. Romantic movies at home are a fun and comfortable choice for date night; so comfortable that couples can even wear pajamas if they choose. All of the film choices above deliver wonderful narratives and characters. Delicious appetizers, a favorite bottle of wine and mood lighting can add extra sizzle to a memorable evening.
By guest contributor Jillian Fritsen
Recommended Articles:
Five Foods That Boost Sex Drive
Natural Housekeeping for Healthy Hormones
The Facts About Man-o-pause