If you're like most people, you're not quite yourself until you've downed that first cup o' Joe in the morning. While fine in moderation, caffeine can cause unpleasant side effects like jitteriness, increased heart rate and difficulty falling asleep—just to name a few. Coffee is also acidic and upsets your body's vital pH balance, which is necessary for good health and a strong immune system. Not only can coffee contribute to hormone imbalance, but over time, it can also put stress on your adrenal glands, contributing to low energy, fatigue and adrenal "burnout."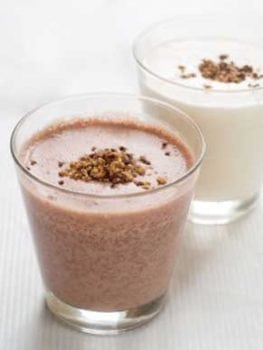 But never fear! It IS possible to boost your energy levels in the morning without putting stress on your system. With vitamin and mineral-rich banana and coconut (or almond) milk, good fats for healthy brain function, plus nutrient-dense maca, our Super Morning Maca Smoothie will get you ready for anything the day brings! As an added bonus, not only does our maca smoothie support energy and vitality, it also boosts libido!
Morning Maca Smoothie
Ingredients
1 tsp. Maca powder
1 tbsp. raw cacao powder
1 cup unsweetened coconut or almond milk
1 ripe banana
½ tsp. vanilla extract
1 tsp. agave nectar or honey
1 cup ice cubes
Directions
Add all ingredients to a blender and blend until smooth.
Related Articles:
Make Your Night Sizzle With Sweet Maca Popcorn
Crank Up the Heat in the Kitchen and Bedroom!
Coffee and Hormonal Balance