The maca plant, which is native to Peru, has been used in folk medicine for generations and cultivated as a crop for about 3,000 years. This unique plant belongs to the same family as cabbage, radish and broccoli. Considered a staple food in the Andean community, maca root has a pleasant aroma like butterscotch with a nutty taste. On its own, maca has a warming and mildly spiced flavor, but its subtlety can be easily overpowered with stronger flavors if you don't enjoy the taste. 
While research on maca root is still in the early stages, maca root powder is an excellent source of many minerals and vitamins, including protein, vitamin C, copper, potassium, iron, manganese and vitamin B6. Research has also tentatively confirmed the root's long medicinal use in fertility medicine. Several studies have found it can support healthy male fertility by promoting healthy semen quality and volume as well as healthy sperm count and motility. This root may also help support healthy mood, especially in women going through menopause.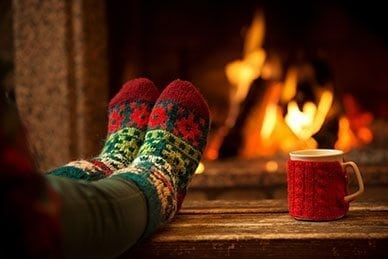 Perhaps the best-known benefit of maca root is it offers an energy boost without the jitters. Maca does not stress the adrenals, so it's a popular alternative to coffee for a morning boost. 
You can find maca root as a capsule or a powder. Most people choose powdered maca root because it can be added to smoothies, oatmeal and baked goods. During the winter, a warming maca drink is a popular and tasty way to enjoy this root vegetable and enjoy its health benefits. Here are several easy maca drink recipes to try as the weather turns chilly.
Mocha Maca Drink
Love your morning coffee but want to cut back on your caffeine? This tasty maca mocha drink gets all of its energy from maca root with no caffeine or coffee at all. This recipe doesn't just give you a much-needed morning pick-me-up; it's also a good source of healthy Medium Chain Triglycerides (MCTs) from coconut oil and cashews for additional energy. You probably won't even notice the maca flavor, which is overpowered by the cacao powder. If you're still on the fence about maca, this drink is a good first step. 
Ingredients:
-- 12 oz very hot water
-- 1 tbsp cacao powder
-- 1 tbsp maca powder
-- 1/4 C raw cashews
-- 1 tsp coconut oil
-- 1/8 tsp ground cinnamon
-- sugar or stevia to taste
To prepare, blend all ingredients in a blender until smooth and drink right away.
Sweet Warming Maca Drink
Want a hot drink recipe that's low on ingredients but high on taste? This quick three-ingredient hot maca beverage is deceptively simple but the perfect way to warm up on a cold winter morning. It's also easy to adapt to your personal tastes by switching out the milk and/or sweetener. 
Ingredients:
-- 1 1/4 C almond milk, cashew milk or coconut milk
-- 1 tbsp maple syrup, coconut palm sugar, honey or brown sugar
-- 1 tbsp maca powder
To prepare, combine all ingredients in a blender until just incorporated. Pour the mixture into a small saucepan and heat on low until warm and frothy. 
Tasty Hot Chocolate Maca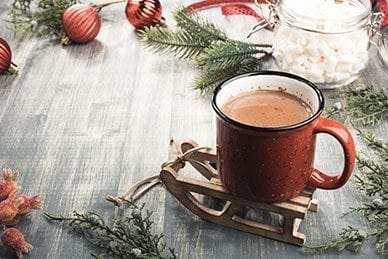 What's better than hot chocolate on a chilly day? Hot chocolate with a little pick-me-up. If you have trouble getting going when it's cold outside, try this easy treat. You can even add tiny marshmallows to complete the experience. Hint: you can always cheat by adding maca powder to your favorite hot chocolate mix to skip the preparation.
Ingredients:
-- 2 1/2 C milk or almond milk
-- 4 tbsp powdered cocoa
-- 2 tbsp sugar or coconut palm sugar
-- 1-2 tbsp maca powder
-- pinch of salt
-- 1/4 tsp ground cloves, nutmeg or cinnamon
To prepare, blend the first five ingredients in a saucepan with a whisk. Heat on medium-low until boiling, stirring frequently. Top with seasonings of your choice. 
Maca Golden Milk
Golden milk is a popular drink that combines the health benefits (and delicious flavor) of coconut oil and turmeric, a yellow spice that gives curry its color. Also known as turmeric milk, this drink has been enjoyed since ancient times with antimicrobial and anti-inflammatory properties. This golden milk recipe ups the benefits even further by adding powdered maca. You'll find this drink savory and creamy with a wonderful blend of warming spices that aren't just tasty but they're also good for you. 
Ingredients:
-- 1 1/2 C coconut milk, dairy milk or almond milk
-- 1 tsp ground cinnamon
-- 1 tsp ground ginger
-- 1 tsp maca powder
-- 1/2 tsp turmeric
-- sweetener of choice, such as stevia or honey
-- optional flavors you can add include cardamon, Himalayan salt or vanilla
Start by warming the milk over low heat in a saucepan. Add in spices and sweetener and stir with a whisk until combined and warm. Serve hot.