Maca is a superfood from Peru that's known scientifically as Lepidium meyenii. The main edible part of maca is the root, which it's often referred to as "maca root." With an earthy and nutty taste, maca can be often be found in powder, capsule and liquid form. Maca is considered a nutritious superfood, containing 60 percent carbohydrates, 10 percent protein and 9 percent fiber. It also contains substantial amounts of vitamin B, vitamin C, manganese, fatty acids, copper, calcium, potassium and iron.
It is no wonder maca is used to strengthen the immune system, lower the symptoms of menopause, balance female hormones, boost energy levels, enhance fertility and maintain healthy bones. Maca can even revitalize a lagging libido! Research studies have found maca to have immense potential to act as an adaptogen and help protect against a number of health concerns. There are various ways to add maca to foods including desserts, smoothies and oatmeal. Read on to find out how you can incorporate maca into your holiday cooking.
Holiday Maca Recipes
Raw Chocolate Chip Maca Blondies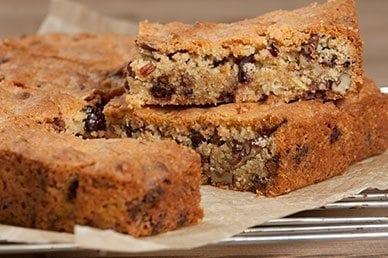 Yield: 16 bars
Serving Size: 1 bar
Ingredients:
— 1 1/4 C cashews
— 1 1/4 C almonds
— 1/4 C maca powder
— 1 tsp vanilla extract
— 1/4 tsp cinnamon
— a pinch of salt
— 15 dates, pitted
— 1-3 tablespoons water
— 1/2 C chocolate chips
Instructions:
1. Pulse nuts together in a food processor to break them into small pieces.
2. Add the maca, vanilla, salt and cinnamon into the food processor. Pulse a few more times until the ingredients are mixed in.
3. With the processor still running, add the dates one at a time into the mixture until it has the consistency of a dough.
4. Add water 1 tablespoon at a time if the dough seems to be too dry. The goal is for it to be firm but not too sticky.
5. Add 1/4 cup chocolate chips and continue slightly pulsing the dough in the processor until the chips are mixed in.
6. Move the dough into an 8x8 baking pan lined with parchment paper.
7. Spread the dough mixture evenly in the baking pan and press into the pan.
8. Spread the rest of the 1/4 cup chocolate chips on top of the dough, pressing them into the dough.
9. Allow the blondies to sit in the fridge for 30 minutes.
10. Cut the blondies into squares and serve.
*This treat can be stored in an airtight container for about one week.
Recipe credit: The Organic Dietician
Holiday Chocolate Maca Truffles
Yield: 24 balls
Serving Size: 1 ball
Ingredients:
— 1 tbsp maca powder
— 2/3 C raw cocoa or carob powder
— 2 tsp Ceylon cinnamon
— 1/4 tsp pink rock salt or sea salt
— 1 C nut butter, well stirred
— 2 tsp vanilla extract
— 1/4 C raw honey
— 24 dried cranberries
— 1/2 C sesame seeds and/or hemp seeds
Instructions:
1. Combine all of the dry ingredients in a bowl to create one uniform mixture.
2. Add the wet ingredients to the mixture slowly by hand.
3. Grab an inch of the mixture, add a dried cranberry to the middle and shape the mixture into a ball.
4. Cover the ball with sesame seeds and/or hemp seeds.
5. Let the balls sit in the fridge until serving time.
Recipe credit: JulieDaniluk.com
Decadent Maca Chocolate Cake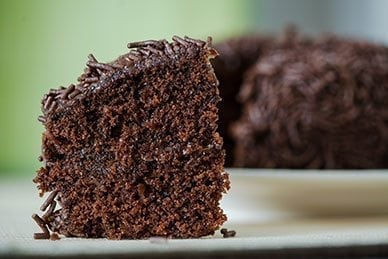 Yield: 12 servings
Ingredients:
— olive oil cooking spray
— 1 tbsp unsweetened cocoa
— 7 oz bittersweet baking chocolate, finely chopped
— 1/2 C plus 1 tbsp turbinado sugar
— 7 tbsp unsalted butter, softened
— 6 large eggs, separated
— 1/2 tsp vanilla extract
— 1/2 C almond flour
— 2 tbsp maca powder
— 1/8 tsp salt
— 1/4 tsp cream of tartar
Instructions:
1. Preheat oven to 325°F.
2. Use the olive oil cooking spray to spray the sides and bottom of a 9-inch pan. Add cocoa to the pan, tapping out excess.
3. Add the chocolate to a heatproof bowl and place the bowl over a pan of simmering water. Cook and stir the chocolate until it is smooth and melted. Remove the bowl of chocolate from the pan and let cool at room temperature.
4. Finely grind the sugar in a food processor. Set aside 1 tbsp ground sugar for later use.
5. For about four minutes, mix butter and remaining ground sugar on medium speed until the mixture is fluffy and light. Add egg yolks, one at a time, mixing well after each.
6. Add maca powder, flour and salt.
7. On medium speed, beat the cream of tartar and egg whites until they are a foamy texture (about one minute). Increase to high speed and continue beating until medium peaks appear. Stir in 1/4 egg white. Slowly fold in the remaining egg white mixture as well. Pour batter into the pan and smooth the top of the mixture.
8. Bake for about 35 to 40 minutes, using a wooden pick to insert into the center to check for moist crumbs. Allow the cake to cool for about 15 minutes.
9. Use a knife to loosen the cake by running along the edge of the pan. Then let the cake cool again for another 30 minutes.
10. Sprinkle 1 tbsp ground sugar on top of the cake. Serve the cake at room temperature.
Recipe credit: Health.com