Doesn't it feel great when you've found the perfect gift! It's an "A-ha! Eureka! Yes!" moment. When it comes to a Valentine's Day gift (or any gift for that matter!), there are a couple of things to consider. The length of your relationship is one element. Your honey's temperament is another. Here we present ideas that are generic, yet special enough to earn you a tender kiss.
Relationship Stage: 1 to 3 Weeks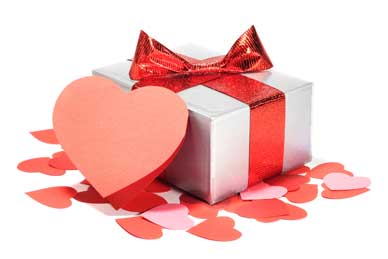 Love Timeline:
  At this stage, you've probably had just a couple of dates.
The Goal:
  A simple, inexpensive gift that says "I enjoy being in your company."
For Her:  Valentine Lip Gloss. This all-natural, hand-made lip gloss set features three heart-shaped pots containing peppermint, black cherry and lemonade lip balm. The set comes in an adorable heart-shaped organza bag.
For Him:  Surprise him with a Starbucks e-Gift Card. An appropriate choice for this stage of your relationship would be an aqua "You're Awesome" gift card. You can add a personalized message.
Relationship Stage: 3 Months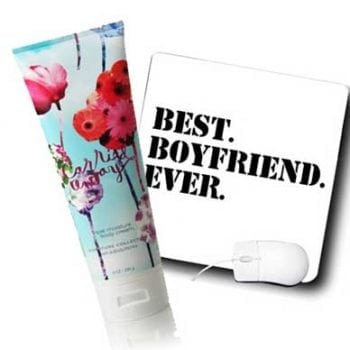 Love Timeline:  Things are going well. When you see each other, you get that happy, tingly feeling. The Goal:  A gift that will really make your sweetie smile.
For Her: "Carried Away" Triple Moisture Body Cream from Bath and Body Works. This is a rich, velvety cream that's non-greasy and highly moisturizing. The fragrance is a blend of vanilla, jasmine and raspberry. It's a light, sweet, floral scent.
Cost: $28.98 for 8 ounces 
To order, go to: amazon.com
For Him: "Best Boyfriend Ever" Mouse Pad. This is a large, 8x8-inch square mouse pad with paint-spattered blue-green lettering on a white background. It's made of rugged recycled rubber.
Relationship Stage: 6 Months
Love Timeline: You're feeling comfortable with each other like you belong together. Goal:  A gift that affirms your compatibility.
For Her: A Floating Heart Desk Frame. She'll melt at the sight of this whimsical picture frame trimmed with floating hearts. The frame takes a 5x7-inch photo. Put a picture of the two of you in the center and get ready for a big smooch.
Cost: $9.99 by Papyrus.
To order, go to: Papyrus 
For Him: Stud Muffin Key Chain. This is a round, brown keychain with the word "stud" above a frosted muffin.
Relationship Stage: 1 Year
Love Timeline: It's settled. You're a twosome. Goal:  Celebrate!
For Her: A pair of gold pierced earrings. Take a hint from the style she typically wears. One that should make the golden grade is a dangle style. You could give her Pol Puff 14 K Yellow Gold Heart Dangle Earrings. 
Cost: $59.99, which is 20 percent off the suggested retail price, by overstock.com.
To order these earrings, go to: Overstock
To see the entire selection, go to: Overstock Selection
For Him:  A Skagen Klassik Men's Watch. The SKW6025 is a Danish-made, classic timepiece. It has a round face with easy-to-read black numbers and orange hands. The wristband is a stylish silver mesh.
Cost: $122.99, which is over $15.00 off the suggested retail price, by overstock.com.
To order, go to: Overstock
Relationship Stage: 2 Years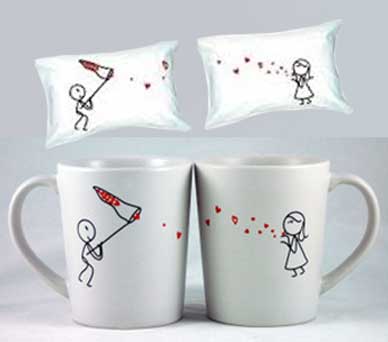 Love Timeline:  You're two peas in a pod. Life is good. Goal:  Honor your love in a lighthearted way.
For Her: BOLDLOFT® "Catch My Love" His and Hers Pillow Cases. This set of pillowcases features stick figures exchanging heart kisses. The sweet girl figure is blowing kisses to her honey. The boy is catching the kisses in a net. She'll be charmed by this gift.
For Him: BOLDLOFT® "Catch My Love" His and Hers Coffee Mugs. These are matching white mugs with cute stick figures. The ladies' mug shows a darling girl blowing heart kisses. The gent's mug has him catching the kisses with a net. He'll get a chuckle out of this gift.
Cost: $23.99 at boldloft.com.
To order, go to: boldloft.com.
Relationship Stage: 5 Years
Love Timeline: It's likely you're married by now. You may even have a child. Goal:  Steal some time away together to connect on a deeper level.
For Her: Book a romantic hotel package. Large hotel chains that offer reasonably priced packages are Radisson, Best Western, Choice, Wyndham, Marriott and Hilton. An example is the Renaissance Hotel's Valentine's Day Romance Getaway. It includes deluxe accommodations with breakfast for two, a designer floral arrangement, a Joya Signature Renaissance Candle and cocktails.
Cost: Approximately $150 per night, on average.
To view this hotel package, go to: Marriott.
For Him: Silk pajamas. You can buy an elegant pair with a button-front top and elasticized waist. Winter Silks makes a high-quality, washable, silk pajama set in a choice of five colors.
Cost: $89.90 - $99.90.
To order these luxurious pajamas, go to: Wintersilks.
Relationship Stage: 10 Years
Love Timeline: Life is busy. You're both working and raising children. Goal: A reprieve for each of you.
For Her: A spa gift card. If you already know of a reputable local spa, buy the gift certificate there. If you're not familiar with any nearby spas, go to: http://www.spafinder.com. Then you can e-mail a gift card from the website.
Cost: Expect to pay at least $150.
To obtain, go to: Spafinder.
For Him: A movie gift card.
Cost: $50. This will allow enough money for two tickets and refreshments.
To obtain: Movie gift cards are available at supermarkets and pharmacies.
Relationship Stage: 15 Years
Love Timeline: Wow, you've been together a long time! You may be getting set in your ways. It's time for a romantic surprise. Goal: Celebrate your love with something especially thoughtful.
For Her: A plush bathrobe. Macy's has a wide variety of cozy bathrobes. The Charter Club line is particularly luxurious. Choose one in her favorite color.
Cost: Varies. Expect to pay at least $80.
To order, go to: Macys.
For Him: A gift subscription to a magazine. According to magazines.com, the most popular men's magazines are Sports Illustrated, Time, The Economist, The New Yorker, TV Guide, Field and Stream, Popular Science, Men's Health, and Reader's Digest. You can also choose one based on your husband's primary interest or line of work.
Cost: Varies by subscription. Subscriptions start at about $30 per year.
To order, go to: Magazines.
Relationship Stage: 25 Years
Love Timeline: It seems like you've been together forever. Maybe you're taking each other for granted. It's time to step out of your comfort zone and get something special for each other.
For Her: A charm bracelet. Tory Burch sells a lovely pink leather Luciana Initial Charm Bracelet. Three charms are included with the bracelet: a pearl, horseshoe and gold medallion. You can add or change charms from a selection of stones, symbols and letters.
For Him:  A Caswell-Massey Gift Set. Caswell-Massey is an old-fashioned apothecary, selling high-quality gifts. They have a classic line of men's items, including travel and gift sets. You can introduce your honey to Caswell-Massey with a Heritage Cologne Sampler. It consists of four classic fragrances from 1840 - 1944, and comes in an elegant gift box with a magnetic snap closure. It is Item#: 09-60026.
Special Gifts for Any Stage
For Her:  Flowers should ideally accompany your gift. Note that a florist order should be placed two weeks in advance. For most florists, Valentine's Day is the busiest holiday of the year. Although roses are a lovely, fragrant choice, they die quickly. For greater longevity, choose mums, carnations, Gerbera daisies, snapdragons and statice. A greeting card should also be purchased two weeks in advance before the best ones disappear.
For Him:
 Send him an e-card. Jacquie Lawson has an extensive line of animated e-cards set to music. You can choose one from their collection of Valentine's Day cards. A subscription costs $12 per year for an unlimited number of cards. To order, go to:
Jacquie Lawson
.
It's the Heart That Counts
Although you're looking for that "Wow!" moment when your sweetie receives your gift, it's still what's in your heart that counts. Wrap up the love in your heart, and you'll give the very best gift of all.