Valentine's Day is the perfect holiday opportunity to express your love for your significant other. Putting in the effort to have a special Valentine's Day is well worth the happy, lasting memories it will create. Setting aside this day to be a special day for you and your partner can also bolster emotional intimacy, which is the foundation of your relationship. Although the typical Valentine's Day date involves a reservation at an upscale restaurant and perhaps a movie, doing the same thing year after year makes it less memorable. Finding unique ways to celebrate will ensure the day is truly special. Do something different this year by trying out one of these fun, unique Valentine's Day ideas.
Plan a Nature Day
Spending time in nature can make for some of the best memories of your life, especially if it's with someone you love. Beautiful views and the sunshine will make the both of you feel peaceful and happy. It'll also help you get away from the stresses and worries of life for a while. Start with a long walk in a nice park or a hike in a great nature destination if you're especially outdoorsy. While you're out and about, you can include a whimsical activity like kite-flying or bird-watching. Finish the day with a lovely picnic, complete with chocolate and champagne. Of course, if you live in the Northern Hemisphere, February can be cold so you'll need to bundle up!
Cute Gestures Your Partner Will Appreciate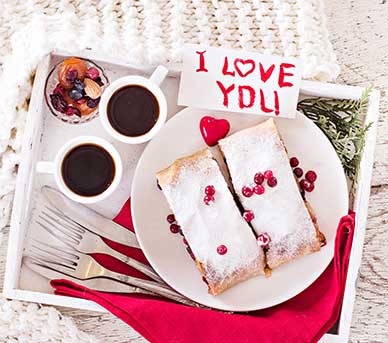 Unfortunately, if you don't have the time for a lengthy private Valentine's Day celebration, you can instead focus on the little things. Here are some ideas to get you started:
Serve your significant other breakfast in bed, complete with their favorite breakfast foods along with a single flower.
Set up a luxurious bath for them when they get home from work. Bubbles and candles are a must and you could even include extras like aromatherapy and mood music.
Give your partner a pleasant surprise by completing all of the chores they would normally do themselves.
Leave little love notes all around the house. Hide them in places that are neither in plain sight nor too difficult to stumble across, such as inside the refrigerator and under their pillow.
Some may find it a bit corny, but a romantic treasure hunt can make for a great memory. Place a message at the front door with directions to find the next clue. Lead the clues around the house and have them end with some sweet gesture such as a gift.
Enjoy a Romantic Night In
One of the most simple and affordable Valentine's Day ideas is to celebrate in your own home. Staying in can be much more romantic than going out. It's a practical measure, as well, given that around Valentine's Day restaurants and hotels tend to be booked up. Start off the evening with a romantic dinner in your own kitchen. Cook your partner's favorite foods and set the table nicely with candles and flowers. After enjoying your meal, enjoy a bottle of wine together. If you have a fireplace, get it going and have your wine in front of it. Finish the night with some sensuous love-making. You can make this portion of the evening even more memorable by taking a libido-boosting supplement like Macabido for a few weeks beforehand.
Unconventional Night In
If you and your partner aren't into the classical picture of romance, your night in doesn't have to be that way. Order some casual food to be delivered, and talk over dinner and fun board games. Later, watch a scary movie at night with some wine and chocolate. Even if you leave out elements like the candle-lit dinner and glowing fireplace, you can still keep the last portion of the night, the romp in the hay!
Unique Going-Out Ideas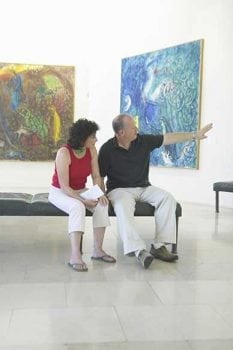 Perhaps you and your loved one would rather go out than stay in. You can still pick unique things to do for Valentine's Day that aren't the usual dinner-and-a-movie. For example:
Check out a cool museum in your area. There are all kinds of museums out there and even if you and your partner aren't into subjects like history, you can't really go wrong with a trip to an art museum.
Go to a concert, whether it's a major tour of an artist you both know or a small local show for a band you've never heard of.
Leisurely browse a bookstore together, or a record store if your partner is a vinyl buff.
Check out a carnival or circus taking place in your area, if there are any.
Take a fun class together, preferably for something neither of you has tried before. There are tons of variations on this, from salsa dance to pottery to horticulture.