The holiday season is full of festivities and good cheer—for the most part. A steady stream of social obligations, sending out the holiday cards, preparing for travel and buying gifts for everyone on your list can add a good deal of stress to what is supposed to be an enjoyable time of year that's focused on friends and family. Sadly, when you're stressed about the holidays, it can carry over into your personal life, affecting your relationships and even your sex life. Stress may put a damper on your sex life, but it's possible to have fulfilling sex during the holidays if you follow these simple suggestions.
Think Outside the Bedroom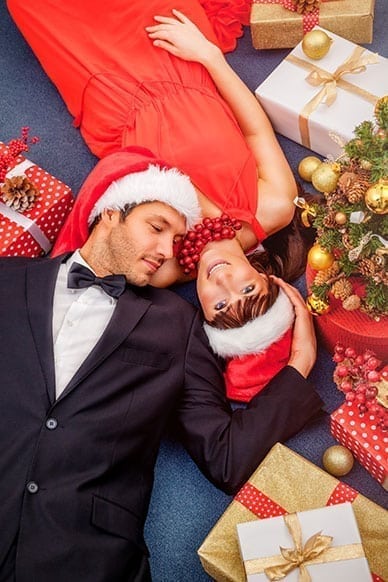 A simple, routine life can easily take the fun out of sex. Let the spirit of the holidays be an inspiration to do it someplace new. There's no need to jump the gun and explore public bathrooms just yet, but consider having fun in other parts of the home. This can increase your endorphins before sex, while the actual act of sex can increase them even more. Whether it's the kitchen table, counter or floor, the change of environment makes sex enjoyable. When it's enjoyable, you're likely to do it more often. Just remember to be discreet if you're expecting guests for the holidays.
Don't Skip Dessert
One delightful tradition during the holiday season is to prepare, buy and eat plenty of good foods. It's also the time of year when we let loose a little and enjoy the buffet of desserts. Chocolate desserts, in particular, can serve as the aphrodisiac you and your partner can take advantage of. Chocolate is historically known for its mood-boosting effects on our biology and psychology. 
One particular study involved two groups of women, one group in which participants ate chocolate daily, and one group in which participants did not. To no surprise, the women who consumed the savory treat daily had significantly higher Female Sexual Function Index (FSFI) scores than those who did not. 
Additionally, it's recommended that men eat dark chocolate because it contains flavonoids and epicatechins that improve dilation and therefore arterial flow within the endothelial (inner) arteries. The penis consists of many endothelial arteries, thus benefitting erections. 
So the next time you're sitting down to a holiday feast, if it's got chocolate, give it a taste. Reach for dark chocolate with little additives if possible to also get the most of other health benefits of the decadent dessert. 
Pour Some Eggnog
Eggnog: You either love it or you hate it. Here's one reason to love it. Though you can opt for the boring version, which includes milk, cream, egg whites and sugar, the holidays are the perfect time to spice it up. An innocent amicable beverage can easily become fuel for some steam with your partner. The use of alcoholic beverages for a revved up libido goes back to ancient Babylonia. 
GABA-A Receptors in alcohol bind to the GABA neurotransmitters, giving way to chloride ions that dim the lights, so to speak. Neurons start to slow down, and the effect is a calmer, more relaxed, less self-conscious you. This state-of-mind is an ideal precursor to sex. Try mixing red burgundy with cinnamon, cloves, ginger, sugar and vanilla to make what is known as Hippocras aphrodisiac. Also, try white port with strawberries. 
Hang All the Mistletoe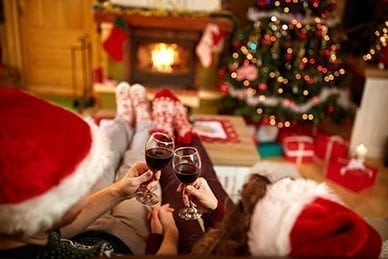 The tradition is to pucker up whenever you find yourself under the mistletoe. To keep you and your sweetheart in the mood this holiday season, be generous. Hang mistletoe in as many places as possible to maintain a fun and loving atmosphere that will make you and your mate close and comfy with each other. Try hanging some in the kitchen, above the headboard of the bed and in as many thresholds as you can think of. The close physical contact and non-verbal communication will eventually lead to more than just smooching. 
Be Rebellious
The kids are out of school, and the family is visiting. This would logically seem like the least suitable atmosphere for intimacy. But staying in love means sometimes ignoring the rules and expectations. Try not to hold back on the sex just because you are nervous about the family and the kids hearing you. Also, use the full house as an opportunity to sneak away for a quick rendezvous. Sneak out to find a quiet, inconspicuous spot like an unlit parking lot or a park. The joviality of this spontaneous getaway will bring out the passion in your partner and make you both feel like a teenager again. 
Use Holiday Stress as an Excuse to Have Sex During the Holidays
With the hustle and bustle of the holidays, it's easy to find yourself harried. Why not use this downside as an excuse to get close and intimate? It can help you better enjoy the festivities of the holidays. Sex is also proven to be an excellent stress reliever by decreasing blood pressure, decreasing pain and even boosting cardiovascular health. Additionally, sex leads to more sex, as the act itself increases your libido.