Maca is a vegetable-like herb native to the Peruvian Andes Mountains. For many centuries, the extracts of various parts of the maca plant have been cultivated as used primarily as a food source and also for medicinal purposes. There are a variety of  natural maca supplements on the market today that can help with a number of health concerns, including low libido and lack of energy. For use in cooking and baking, powdered maca can be purchased online or at various nutritional supplement chains. Reap the health benefits of maca this fall with these delicious, nutritious and warming autumn maca recipes.
Maca's Health Benefits
Maca is said to possess many health-impacting attributes including:
Enhanced Sexual Function and Desire
Research studies have demonstrated that both men and women using maca powder experience improved libido-related sexual performance and a heightened libido. Additionally, further research has found that the ingestion of maca might also help certain men deal with sexual performance issues like erectile dysfunction (ED).
Increased Energy Levels
Maca is believed to possess significant quantities of important, health-sustaining and energy-building nutrients, vitamins and chemicals such as antioxidants (substances known to prevent or lessen bodily accumulation of the inflammation that often precipitates physical injuries and diseases like autoimmune disorders, diabetes and possibly certain kinds of cancer), amino acids (the building blocks of energy-boosting substances called proteins), Vitamin C, copper and iron.
Balanced Hormone Levels
Maca contains many phyto-chemicals that can help promote healthy balance of key sexual and reproductive hormones, especially estrogen in women.
Healthy Fertility Levels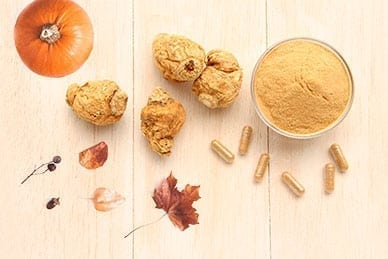 Some health professionals believe maca contributes to the strength and motility of male sperm, leading to higher fertility levels in individuals who frequently use the product.
Autumn Maca Recipes
There are several ways to include maca in some of the foods and drinks you regularly enjoy to help you warm and healthy this fall including. Below are some of our favorite maca recipes for autumn.
Hot Maca
Hot maca is a warm and soothing drink to enjoy as the days get colder and shorter.
Ingredients
1 tsp. maca powder
1 tbsp. palm sugar or maple syrup
1 1/4 c. almond or cashew milk
Directions
Place all ingredients into a blender and blend together until the maca powder is thoroughly immersed in the liquid concoction. Once the ingredients are mixed together, empty contents into a container suitable for stove heating, place on a low flame and wait until the product achieves desired warmth. This beverage is best served when the content becomes frothy, such as seen in a thick milkshake.
Maca Energy Bars
Maca energy bars are healthy snacks that can be eaten either on the go or as a quick dessert in the evening when one wishes to wind down and relax.
Ingredients
1/2 c. nuts (preferably almonds)
1/2 c. sunflower seeds
1/2 c. flax meal
2 tsp. maca powder
2 tsp. chia seeds
1/4 c. maple syrup
1/4 c. coconut oil
1/3 c. almond butter
1/2 tsp. sea salt
Directions
Finely puree the nuts. Once the nuts are ground, combine them with the maca powder, sunflower and chia seeds, flax meal and sea salt into a large bowl. In a separate bowl, mix the maple syrup, coconut oil and almond butter. After thoroughly mixing the oil, butter and syrup, pour the mixture into the bowl containing the other ingredients and blend thoroughly. Line a large pan with paper. Spread the mixture onto the pain. Place pan in the refrigerator and let solidify for at least one hour.
Maca Sweet Potato Fries
Maca sweet potato fries are a healthy side dish that can be eaten as a snack or to compliment a lunch or dinner meal.
Ingredients
2 lbs. sweet potatoes
1/2 tsp. chili powder
1/2 tsp. maca powder
3/4 tsp. onion powder
3/4 tsp. sea salt
1 tsp. palm sugar
1 tsp. mesquite barbeque powder
2 tbsp. melted coconut oil
1 1/4 tsp. paprika
1/8 tsp. cayenne pepper
Directions
Preheat the oven to 450 degrees. Cut potatoes into fry-shaped designs. After tossing the fries with the coconut oil, place fries on baking sheet. Bake fries for a duration of 15 to 25 minutes, or until they start to brown. If personal tastes desire crispier fries, extend the baking period an extra five to 10 minutes. As the fries are baking, mix the remaining ingredients. When the fries are done, sprinkle the concoction of spices onto the fries.
Warming Maca Smoothie
This maca-laden smoothie can be made as a warm drink that can provide warmth as the fall temperatures grow crisper.
Ingredients
6 c. water, tea or milk
1 tbsp. maca powder
1 tbsp. chia seeds
1 tbsp. maple syrup
2 tbsp. coconut oil
2 tbsp. hemp seeds
3 tbsp. raw cocoa powder
1 tsp. vanilla
1/2 tsp. cinnamon
1/2 tsp. nutmeg
1/2 tsp. cardamom
1/2 tsp. ginger
1 banana
handful of nuts
pinch of sea salt
pinch of cayenne pepper
Directions
Place all ingredients into a blender and puree until they are finely mixed and the concoction is very smooth. Pour the desired amount of the preparation into a stove-top or microwaveable container and heat until the product reaches the desired warmth.